The ultrasound tortuosity meter (or ultrasound refractometer) is designed to obtain reliable measurements of tortuosity and characteristic lengths of a wide range of porous materials typically used in noise control. The system uses both ultrasound reflection and transmission methods with 1 or 2 gases (2 gases is optional).
Reflection and Transmission TOR
Two Gases Transmission and Reflection TOR
Two Gases TOR Specifications
The Two Gases option includes measurement in air and helium.
​
The combination of the measurements makes it possible to compute the viscous characteristic length as well as the thermal characteristic length;

Advanced measurement, signal processing and post-processing for better accuracy;

Method based on several scientific research [1, 2, 3, 4, 5, 6 and 7].
Mecanum's ultrasound tortuosity meter is used by the world's leading material suppliers to both the automotive and aircraft industry for:
​
Quality control in the manufacturing process of materials;

Research, development, and innovation;

Feeding acoustical prediction software dealing with sound absorbing materials.
The system includes two air-coupled ultrasound transducers, one high voltage pulser/receiver system, specimen holders, USB-DAQ and the TOR-X software. The TOR-X software assists the experimenter during the measurement and calculates the statistics on the measurement of tortuosity and equivalent length. Two ultrasound methods are included: reflection and transmission. The system works with disc shaped samples. To obtain viscous and thermal characteristic lengths, a two-gases method is available as an option.
TOR-X
Main Advantages of the Product
Mecanum's Related Products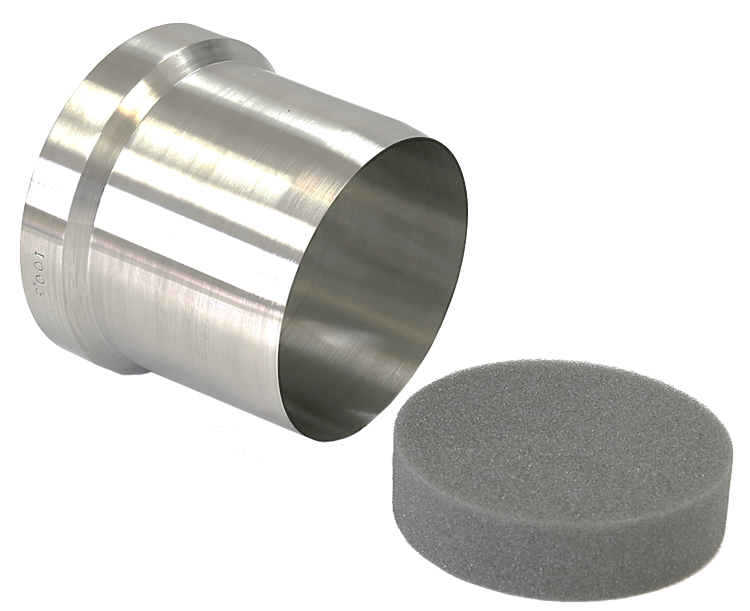 More Information
[1] J.-F. Allard, B. Castagnède, M. Henry, W. Lauriks, "Evaluation of tortuosity in acoustic porous materials saturated by air," Rev Sci. Instrum. 65, 754–755 (1994).
[2] A. Moussatov, C. Ayrault, B. Castagnède, "Porous material characterization – ultrasonic method for estimation of tortuosity and charateristic length using a barometric chamber," Ultrasonics 39, 195–202 (2001).
[3] P. Bonfiglio and F. Pompoli, "Frequency dependent tortuosity measurement by means of ultrasonic tests," conference paper, ICSV14, 9-12 July, Cairns, Australia (2007).
[4] J.-F. Allard and N. Atalla, Propagation of sound in porous media: modeling sound absorbing materials (2nd Edition, Wiley, 2009).
[5] Foam-X Software (Characterization of the non-acoustical properties of porous material from impedance tube measurements).
[6] N. Kino, "Ultrasonic measurements of the two characteristic lengths in fibrous materials," Applied Acoustics 68, 1427-1438, 2007.
[7] Ph. Leclaire, L. Kelders, W Lauriks, M. Melon, N. Brown, and B. Castagnède, "Determination of the viscous and thermal characteristic lengths of plastic foams by ultrasonic measurements in helium and air," Journal of Applied Physics 80, 2009 (1996); doi: 10.1063/1.363817.