Mecanum's impedance and transmission tubes are specifically designed to measure the main acoustic indicators of a wide range of acoustical materials.
The method is based on ASTM E1050, ISO 10534-2 and ASTM E2611 standards.
4 microphones impedance tube
2 microphones impedance tube
3 microphones impedance tube
Standard Mecanum's impedance and transmission tube system includes:
​
Impedance and transmission tube

Microphones

DAQ system

Ultralow distortion audio amplifier

TUBE-X software

A verification sample to check the measurement procedure

Grids to support limp materials

Rings to minimize acoustical leaks around the sample
​
TUBE-X Software
The TUBE-X software is a user-friendly tool for impedance tube measurements. It will allow you to choose among different measurement techniques. TUBE-X controls the entire procedure from calibration to the measurement itself. It takes into account the atmospheric conditions and the internal dissipation of the tube.
​
TUBE-X can also:
​
Measure in white noise or sweep sines

Correct the effects of grids and rings if they are used during measurement

Compare measurement projects

Merge the measurements made with the different tubes

Average measurements (in fine bands, third octave and octave)

Estimate acoustic indicators (NRC, SAA)

Calculate the penetration depth of the acoustic wave in the material (20 dB reduction)

Export graphs and data to Excel and text files
​
In addition, it is fully compatible with the FOAM-X software which allows non-acoustic parameters of porous materials to be extracted using the inverse method [JCAA2005, SAE2017, SAE2018] which uses absorption measurements obtained with 2, 3 or 4 microphones and the indirect method [JASA2006, JASA2008, AA2010] which uses measurements obtained with 3 or 4 microphones.
Comparison Tool
Main Advantages of the Product
Video
Demonstration
Anechoic Termination
Mecanum's patent-pending Enhanced Noise Deadener (E.N.D.) Technology is simply the most compact and efficient anechoic termination on the market. Specially designed to be used with acoustic impedance and sound transmission tubes. Mecanum anechoic terminations are the only ones to reach 95% of sound absorption coefficients at 150 Hz in only 37 cm long. Mecanum END™ technology complies with the definition of an anechoic wall according to ISO 3745.
Mecanum anechoic terminations, based on END™ technology, are compact in comparison to existing absorbent terminations.
They exist in different diameters to fit acoustic tubes of:
​
100 mm

64.5 mm

44.44 mm

34.9 mm

29 mm

Custom design on demand
Mecanum anechoic terminations are characterized by a cutoff frequency from which a sound absorption coefficient is maintained. Different terminations are available:
​
Cutoff frequency of 95% @ 150 Hz

Cutoff frequency of 95% @ 100 Hz

Cutoff frequency of 99% @ 100 Hz (Anechoic termination according to ISO 3745)

Custom design on demand
Applications of Anechoic Termination
Use with an acoustic impedance tube

Use with a sound transmission tube

END™ Technology can also be used in different surface acoustic treatments
Main Adavantages of the Termination
Mecanum's related Products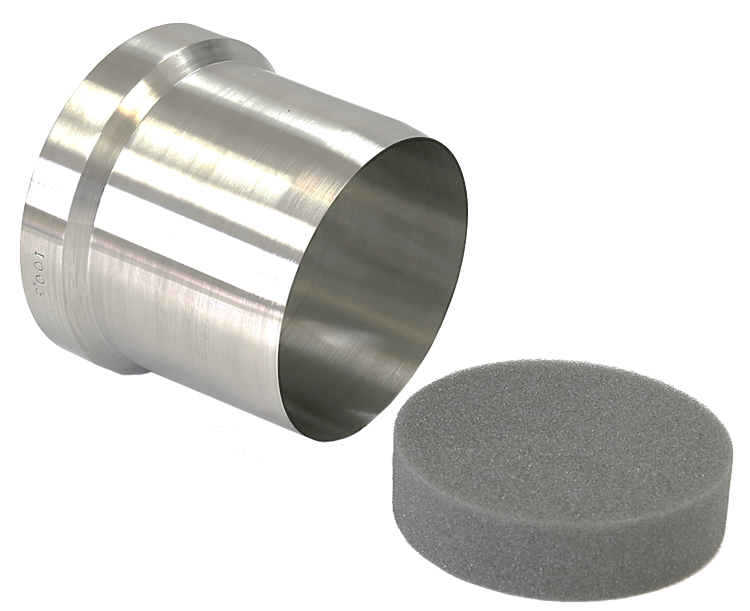 More Information